The necker cube is an illusion in which a two-dimensional drawing of an array of cubes appears to simultaneously protrude from and intrude into the page.
A Necker cube appears on the banner shown in Escher's lithographs "Metamorphosis I" (Bool et al. 1982, p. 271; Forty 2003, p. 39), "Cycle" (Bool et al. 1982, p. 274), and "Convex and Concave". It is also the basis for the arcade game Q*bert.
Depending on the view point chosen for projection, the cubes may be composed of one, two, or three types of rhombi.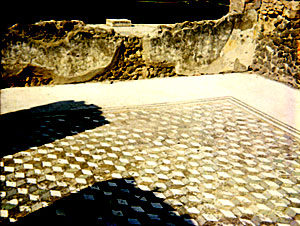 The Necker cube is also a tiling that was used in ancient times, including as a mosaic on the floor of one of the houses in Pompeii, as illustrated in the photograph above (courtesy of S. Jaskulowski).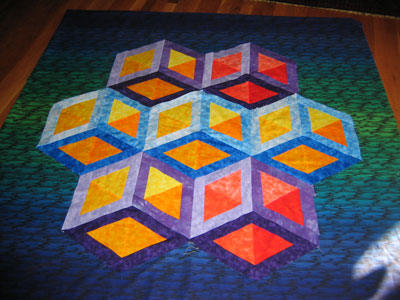 The image above shows a Necker cube pattern emblazoned on a quilt created by Janice Ewing using a pattern by Karen Combs.